The German MMA scene has been craving some thrilling martial arts fights at big arenas for over a year. Now fans can get excited for 2 October 2021, when "Germany's toughest league" (according to Bild) will debut in Nuremberg. After We Love MMA announced the first three fights of the 54th edition at Arena Nürnberger Versicherungen, here comes the next stunner: the middleweight title fight.
Dustin Stoltzfus, who moved to UFC following his victories in Germany's largest and most famous MMA series, is the reigning We Love MMA Middleweight Champion. His UFC debut was in November 2020, and was just barely outpointed by Kyle Daukaus. Stoltzfus became an international name through We Love MMA, and was one of the series' faces. Even former US Ambassador Richard Grenell held a reception for him and the series at his Berlin villa. The title was declared vacant following Stoltzfus' move to UFC.
The mandatory hiatus is coming to an end with this thrilling fight for the middleweight belt. The number 1 fighter in the middleweight rankings, Leo Lauber from Frankfurt (MMA Spirit), and number 4 Peter Nyari from Braunschweig (Tiger Warriors Gym), will face off to take the belt home.

Leo Lauber is a homegrown We Love MMA contender and has won each of his four fights. Not only has he shown a knack for knockouts and a skill for submissions, but he also has the stamina to go overtime to gain a clear point advantage. He is challenged by Peter Nyari, who has also won three of his four fights with We Love MMA. After a bumpy start in 2019, he pulled through in his last two bouts to show his true potential. He won both with a submission in the first round! One thing is certain: these two model athletes will cause a martial arts explosion worthy of a title fight!
One of the main fights of the evening will have some celebrity flair: Temptation Island contestant Mario Wittmann of MMA Mundial will face off against Nils Wernersbach from Suum Cuique Mainz. Wittmann, who lives in Ingolstadt, could have a home advantage and the ladies in the audience will be rooting for him. But Wernersbach won't let that get to his head, and will do everything he can to win the bout. The first three of up to 12 fights in Nuremberg are set. More will be announced soon.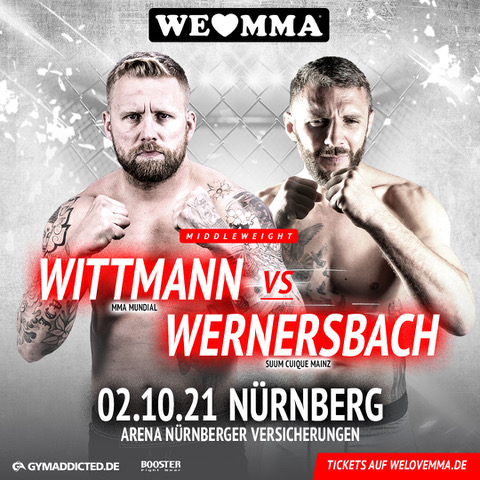 In the welterweight division, Dominik Vetek from Planet Eater will compete against Chris Wilson from Southpaw Gym. In the middleweight division, Manuel Sprau from Suum Cuique Mainz is up against Max Graf from Kampfgeist Gym.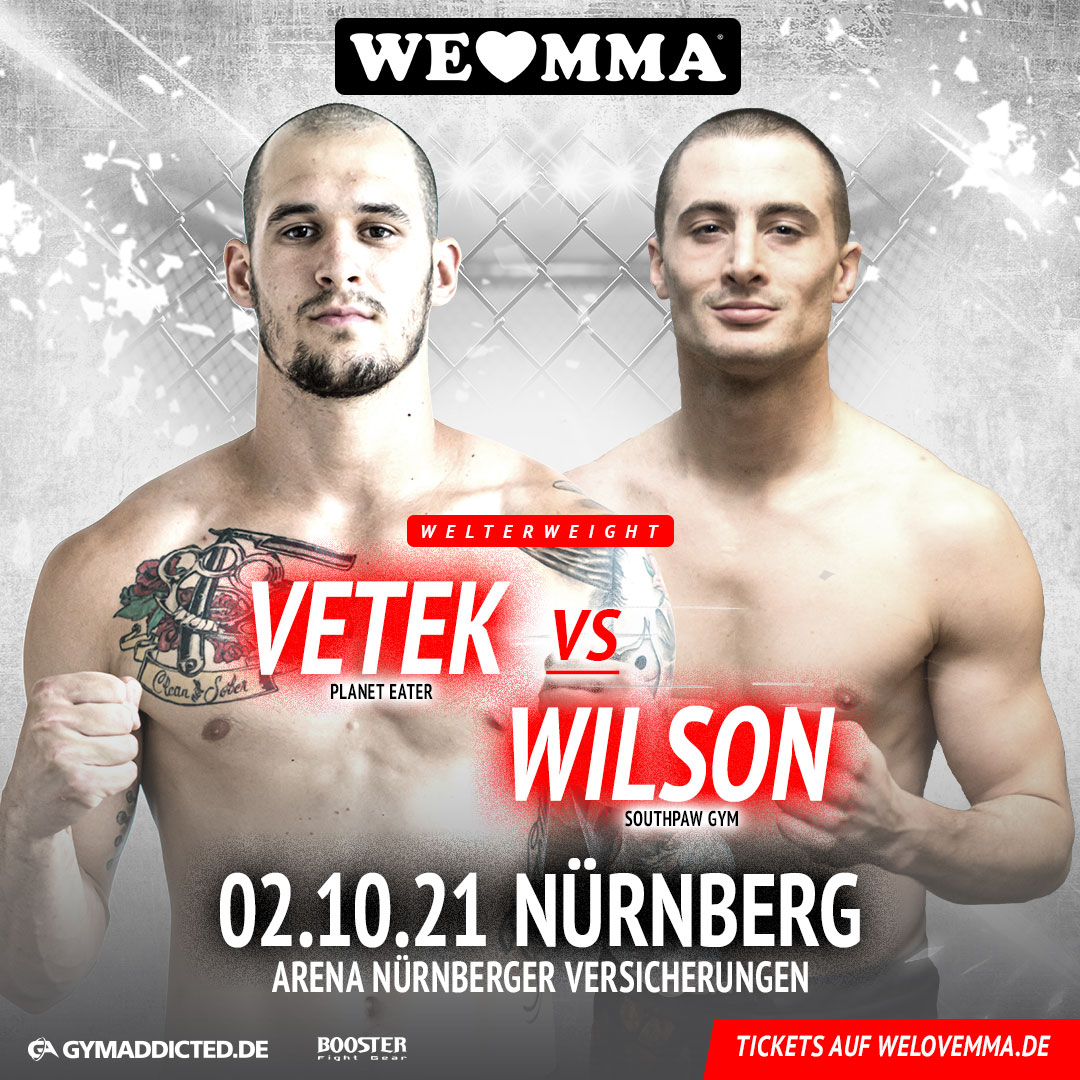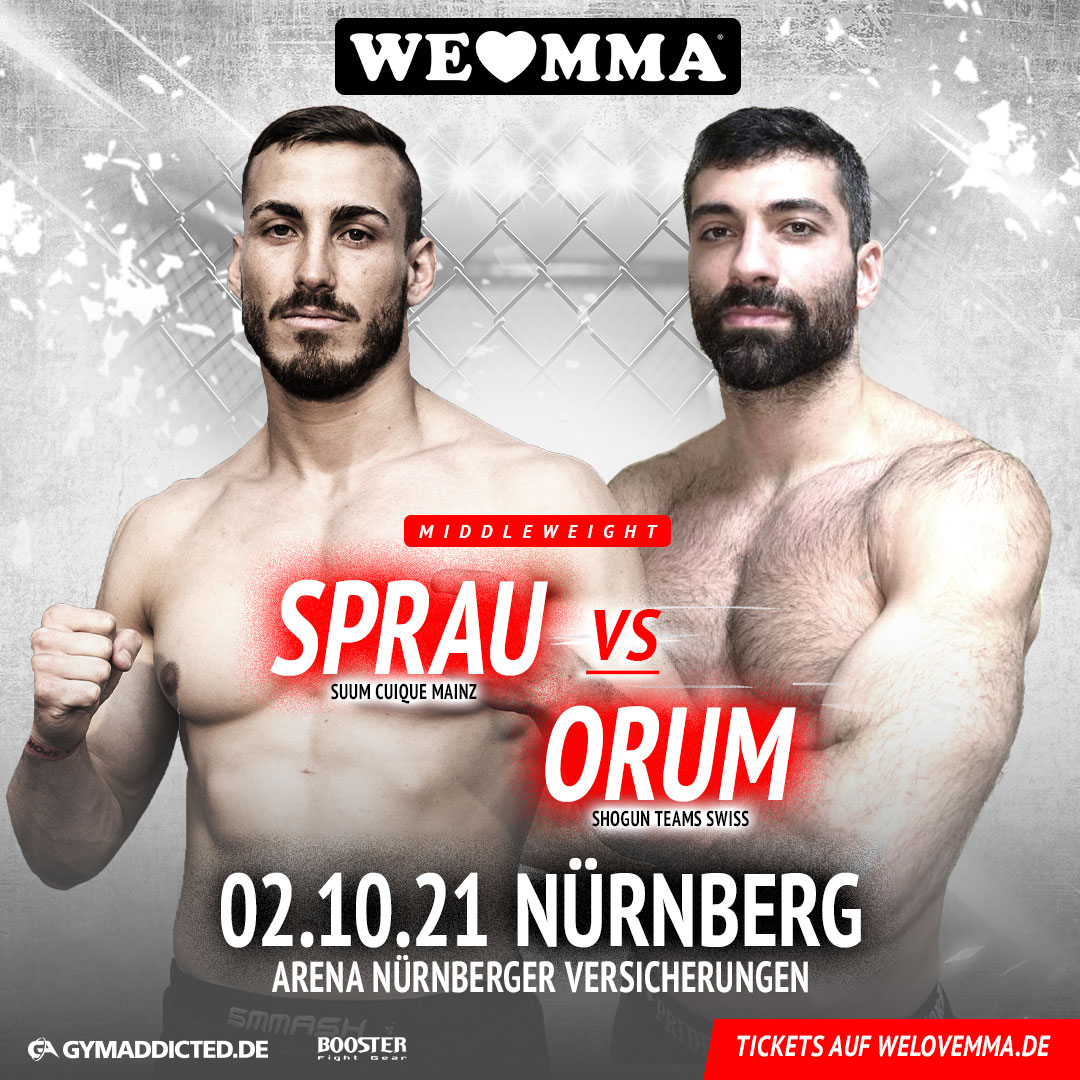 We Love MMA isn't so successful for nothing. The events pack a punch with outstanding fight cards, a captivating atmosphere, and bouts of the highest calibre. The rules allow techniques from a variety of sports like boxing, kickboxing, Muay Thai, Brazilian jiu-jitsu, wrestling, kung fu, judo and grappling, mean that contenders from different backgrounds can face off against each other. This is what makes this sport so thrilling. All events are subject to the international regulations of the United Rules of Mixed Martial Arts.